BESPOKE CAR BROKER'S
TOP 10 CARS FOR 10K
The reason we are doing this TOP 10 CARS FOR 10K list is not for teenagers and racers, which all too often these sort of bargain lists are directed at. We are doing it because if you are starting to get into cars, and are at a certain age to where you respect them and can afford to spend some money undoing the mall parking lot donuts and stop light drag races those prepubescent teens did, you will have a great driver's car.
That is why we picked $10K as our ceiling. When you spend the same amount as you would on a new watch or sofa, you don't take the investment too seriously. You still will enjoy it, drive it, and not be too upset when it doesn't make it home under its own power… sorry but it's inevitable.
However, when the car gods smile upon you, and the weather clears and the car answers the call to action; nothing will bring you more joy than roaring down the road in a car you saved from becoming a sitting forlorn and hopeless in a yard somewhere.
That's why the following cars should not be confused with our TOP 10 BEST CARS TO BUY NOW, despite some repeat appearances. Those are the real cup of a carpenter (*hint*hint* buy those now!) We are also breaking some cardinal Car Broker rules by pointing you to the best deals across the country, not our own inventory.
This list is geared more for smiles per gallon (I immediately regretted saying that) than trailer queens. As is all the case with Bespoke Car Broker, we aim to not only have fun with our cars but to make some money while we do it.
Some of these cars will not be in great condition, some will need some TLC after you get them… and by some I mean most. That's what you get when you're competing with buyers who aren't allowed to drink or smoke, or do anything else that brings joy to their lives. Let's drive in with the first pick for our TOP 10 CARS FOR 10K
Pontiac GTO (2004-2006)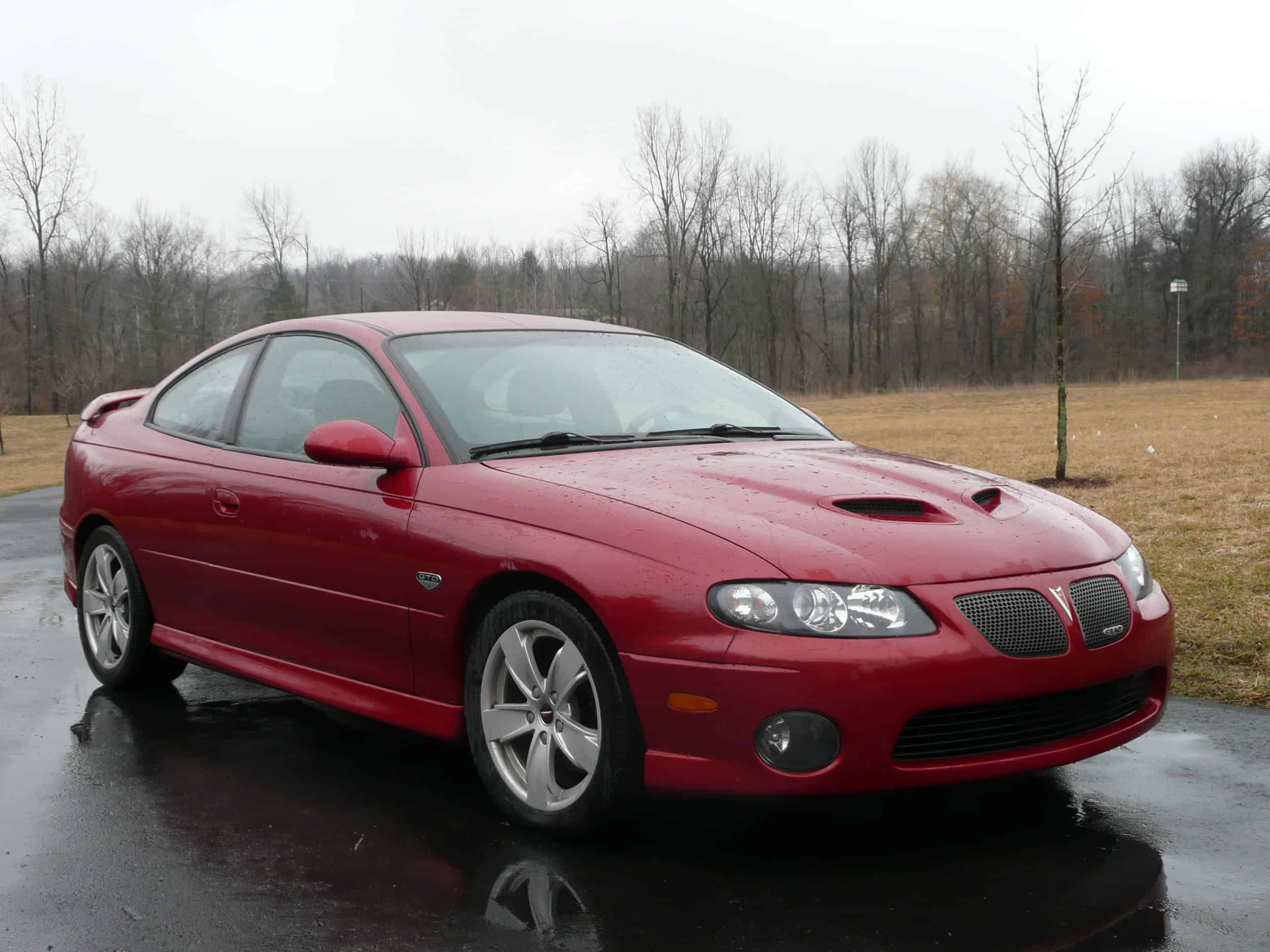 When GM launched the 5th generation Pontiac GTO[1] in 2004 it was a hit… on paper. It beat the retro 2005 5th gen Mustang[2] to market. It had more power, 100hp to be exact, and went to 60mph in 4.7 seconds, .4 seconds faster than the Stang. But the Mustang out sold the GTO almost 10 to 1. What went wrong?
This is in part to this is being a rebranded Holden Monaro[3] from 2000. Bob Lutz, the American Chairman of GM, had to get so many people on board, mainly GM's other overseas divisions, that 4 years had passed by the time this car came to U.S. soil. The 4 year-old Holden's styling did not compare to the stylish Mustang. Additionally, in that time, the exchange rate between the Australian dollar and the U.S. dollar ballooned the price from $25,000 to almost $35,000.
Now these cars are about the best bargain muscle cars you can buy, most not even cresting 7k. Find one and wait for the market to come to you, and they will since this was the last GTO ever made. Get the final 2 years of production and do not get an automatic. Midnight Blue Metallic and Yellow Jacket, were only available for 2005 and Spice Red Metallic and Brazen Orange Metallic were only available for 2006, the final year. Like one of these two listings here and here
Jeep CJ-5 Renegade
There are few things as plentiful than a bargain Jeep, and no Jeep reigns supreme like the CJ-5[4]. It to this day is the longest running generation produced by Jeep ever, from 1955 until 1983[5]. It is partly for that reason you can pick one of these up well under 10K bucks.
the best thing about this 4×4 is that parts are littered everywhere and it's a jeep. It is not supposed to be perfect, not supposed to be the lap of luxury. You do not expect everything to work on it.
You get it because it's already been through everything and will keep going long after you're gone, if you treat it appropriately. As was the case when we talked about it in our TOP 5 PRIVATE CAR COLLECTIONS piece, and Ralph Lauren's[6] beloved white CJ-5
Naturally over the decades, there were over a dozen different editions[7] and trim levels. Some aren't worth their salt and others need to be snapped up immediately. They had Laredo trim, a decal-only Golden Hawk, tuxedo pack. What were they thinking with a tuxedo pack? As Robin William's put it, "That's like a Volvo with a gun rack"
The only package you should be consumed by is the Renegade package. It encompassed the performance pack called 462 in 1970 and 1971 and was essentially built on for the 25 anniversary. You either got the unkillable Dauntless V6 or the more powerful 5.0 V8. Try to hold out for a 4 speed transmission over a 3 speed if you can. The whackier the colors the better. Hunt for one in Wild Plum, Mint Green, Pale Yellow, or Riverside Orange. Or go this classic Metallic Blue if the others don't suit you.
International Scout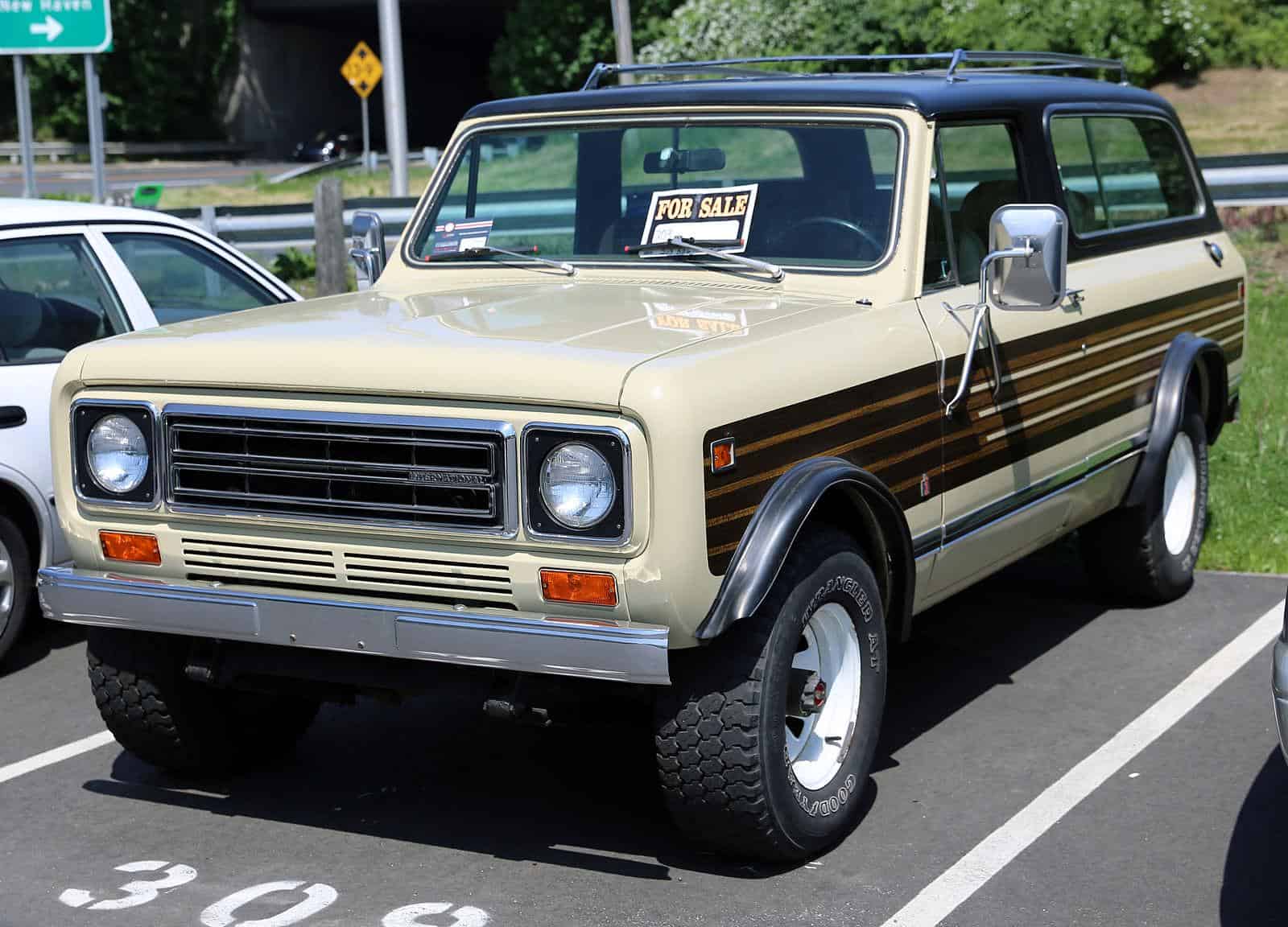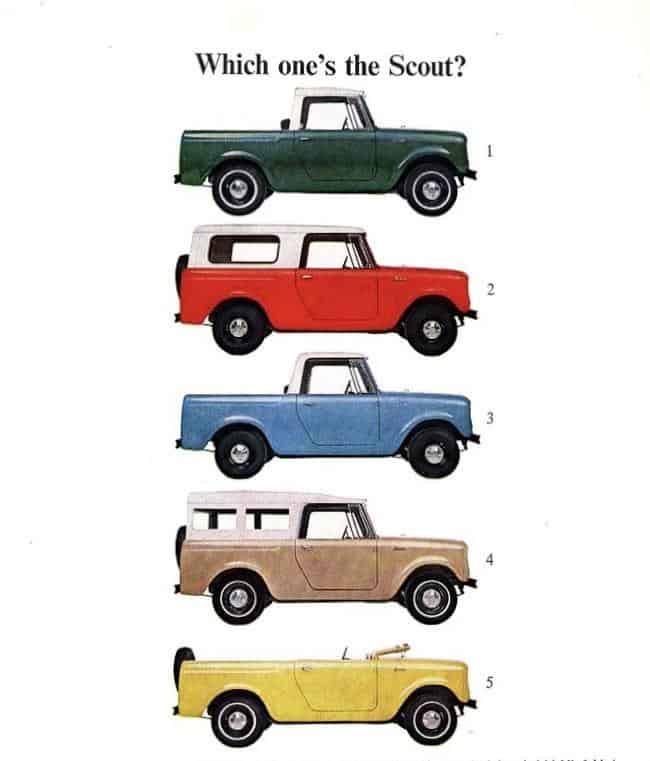 This is not the first time[8] the International Harvester Scout[9] has been named a noteworthy classic by Bespoke Car Broker. When compared to the CJ-5 above, the Ford Bronco (click here to see our write up) and the Chevrolet Blazer; the International Scout was inevitably forgettable. Case in point by the International Harvester's own 1964 ad below:
Even they forgot!
As each of those other off-roaders has had their own time to shine, getting so appreciated that the average car guy can't touch them. So they went to the next best model and then the next best make. This is the basis for Car Inflation. It does not take anything away from the Scout, it just didn't take off like its counterparts. So the International Scout sat unappreciated… until now.
With the Scout being virtually unchanged physically for 2 decades from its inception from 1961, it really comes down to what you are looking for. They had convertibles, pickups, to the extended people mover called the Traveler to the striped down Safari Scout. You get to pick which one works best, or find one and make it work for you like International first intended.
The Scout and Scout II's[10] are similar but the part deux has a beefier grille and from 1974 on it came with power disc brakes standard and a 5.3 V8 so that would be where I'd start! Clean examples have increased in value over 50%[11] in the last 2 years, and even fair drivers have jumped almost 30%11 in the same period.
It would be worth finding one that is not too rusted but needs some TLC and tend to it. Polish it over time back to the brilliant shine these trucks used to have and watch as everyone scrambles to get one once the market explodes. Though this one here isn't pretty it's got enough life and character and meat on the bone for it to be saved. This pretty early bird or this one right at our ceiling here
Mini Cooper JCW (2008-2012)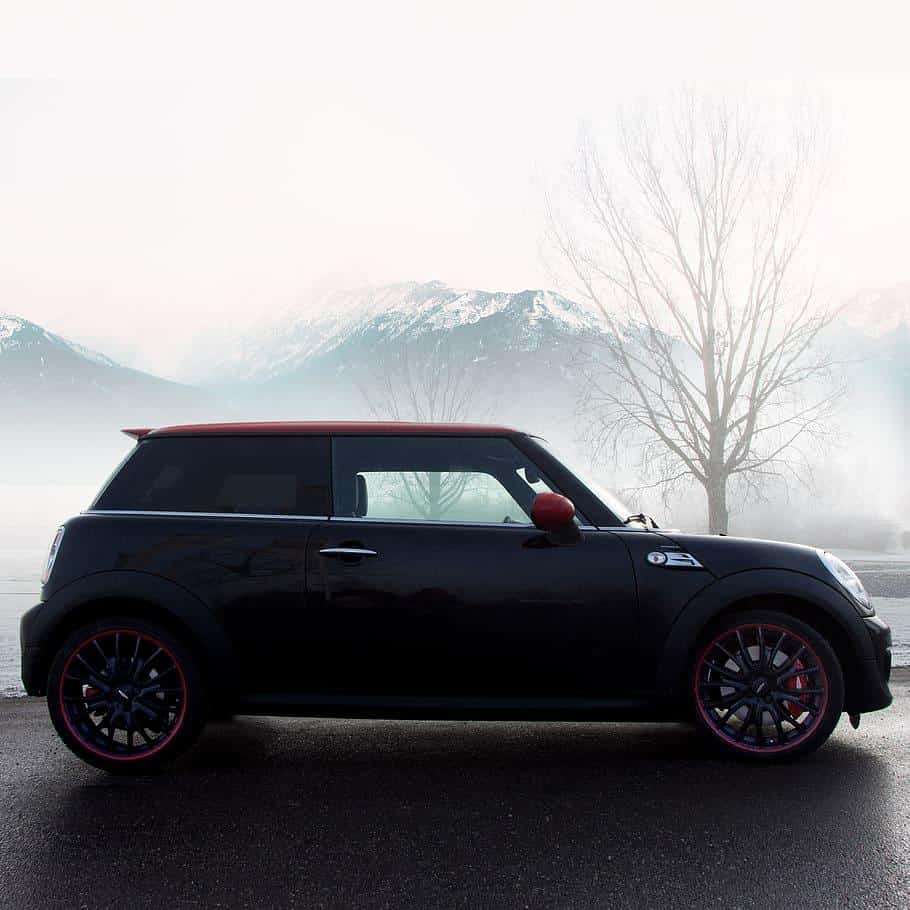 This is as bad a Mini as Mini's come. I know that sounds similar to "The Green PowerPuff girl is one bad b*tch" and you'd be right… she is, and so is this Mini.
For years the John Cooper Works package[12] was actually a kit that was added to Mini Cooper S'. It was only until 2008 that Mini made it a factory car.[13] The first technical JCW had 210 hp and 192 ft-lbs of torque. That's 100 horsepower more than the base Mini Cooper.
Also unlike the base model, the JCW was Turbocharged. The turbo spools up 13 pounds of boost[14] and puts out 207 ft-lbs of torque. It had a more efficient ECU. A larger gauge exhaust and the biggest turbo Mini offered at the time.
Also at the time this was the first Mini to ever have Dynamic Traction Control or DTC and is now on every single Bimmer to roll out of the factory. It had an electronically controlled limited slip differential and 12 and half inch 4 piston Brembo brakes.
Now if this hardcore Mini is too much for your limp wrists to handle, you can grab a first generation Cooper S for as much as a new iPhone 11 Pro. Or second generation for the same as a MacBook. Those 2 iterations spanned over a decade That means more vehicles to choose from until you goldilocks into one that's just right.
But no matter which you pick; check your VIN for impersonators and be ready for a BMW price tagged repair bill at some point. Like the clutch going after 100k miles or the ECU getting glitchy in more humid climates. If you can find one that's pre-2008 and it's under 10k, buy it immediately. I recommend one in a different color than the typical black or red like one of these two JCW's #1 or #2. These Mini JCW's will forever hold a spot on our TOP 10 CARS FOR 10K
Porsche 944 Turbo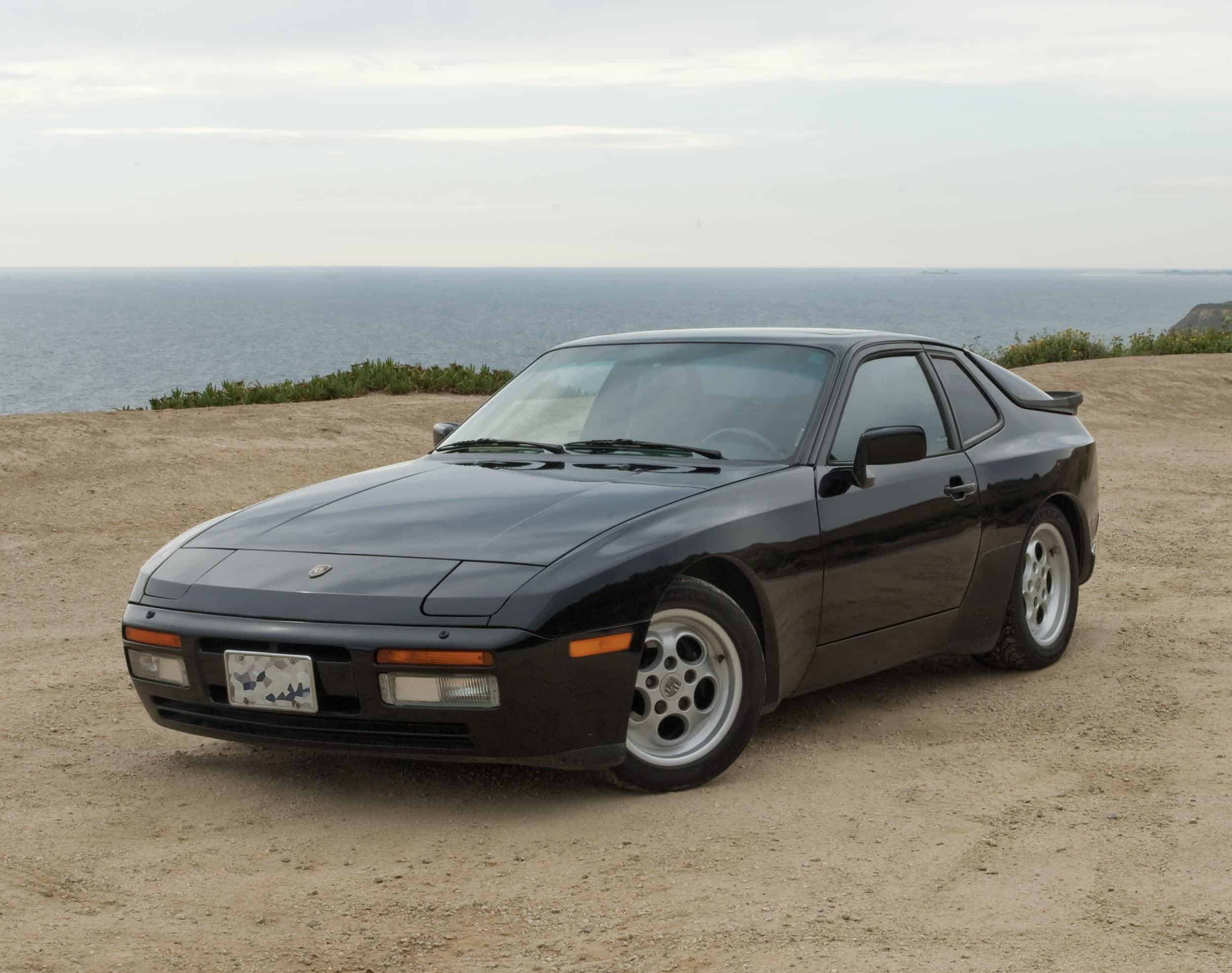 It is funny how the lens of time lets us see things for what they truly are. Whether it be a mundane moment with a dad, a passing compliment from a friend. You look back and realize it was an integral chapter; a turning point. The 944[15] Turbo is just that.
Something originally designed between Volkswagen and Porsche, it started out as a successor to the 914 rebranded a VW.but when the costs got too high and the car threatened VW's Scirocco so they cancelled it. Porsche bought the rights to the design thankfully and we got the 944.
Despite being front engined, rear-wheel driven, (something Porsche didn't really do for those paying attention) Porsche got a nearly perfect weight distribution for the 944.
The Turbo model[16] had a 2.5 liter M44 straight 4 that was good for 217 horsepower from 1985 to 1988. The one year only Turbo S in 1988 and following Turbo model from 1989 to 1990 made the same 247 horsepower. The 944 Turbo goes from 0-60 in 6.0 seconds or 5.5 seconds depending on what year you get your hands on.
With Brembo[17] 4 piston fixed calipers and 12-inch disc brakes all around, optional "M030" suspension package with Koni shocks along with ride adjustable height. This car was the 3rd most prolific car Porsche ever made. But just over 1500 examples were produced during the final 2 years. Hunt for those. But in the meantime start here with this one from 1986
BMW E38 7 Series M-Sport (1994-2001)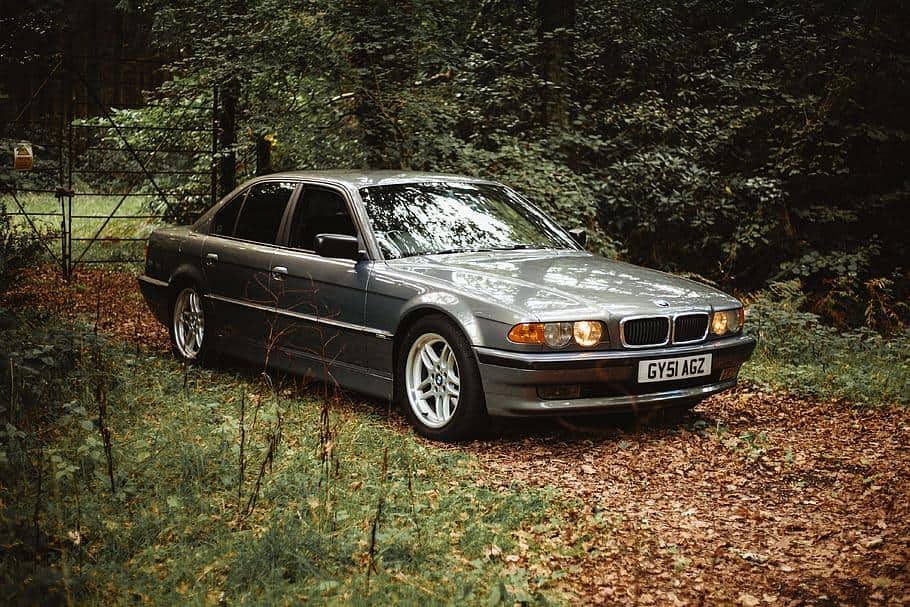 There are few cars as iconic as the BMW 7 Series[18]. This particular generation, the E38[19], is held by many as the pinnacle of design for BMW's flagship. It gracefully built on its predecessor, the E32 7 series but also was incredibly technologically focused.
This 7 Series was the first car in Europe to have satellite navigation and the first BMW to have a TV. It had rain sensing wipers, auto leveling headlights, auto leveling suspension for that matter and electronic damping so you could throw this 4000 lb sedan around any corner.
The E38 was the centerfold on Bimmer bros walls growing up in the 1990's. This is also in part to it being good enough for the best secret agent, 007. James Bond drove this car in Tomorrow Never Dies where Q-branch teched it out even more.
The best us lowly humans could do was an E38 with the M Sport package[20]. It had a sport steering wheel with notches for your thumbs and index fingers for more grip. The seats were unique with larger bolstering so you didn't slide around.
Lastly, Bmw developed a sports suspension from M division, a shorter final drive ratio and higher stall speed for the torque converter. This gave the E38 282 horsepower and 324 ft-lbs of torque. This allowed for a 0–60 mph time of 5.9 seconds… 20 years ago.
That's one thing to keep in mind, this car accomplishes all that performance, wraps you in all that comfort, and still looks this good 2 decades after it was made. Repairs will be expected on a car this old, and most have high mileage but there is no doubt this will be a collector's car to come. This is one claims to have the sport package but I'm doubtful, this one here definitely does and you can see the difference
Honda S2000 (1999-2009)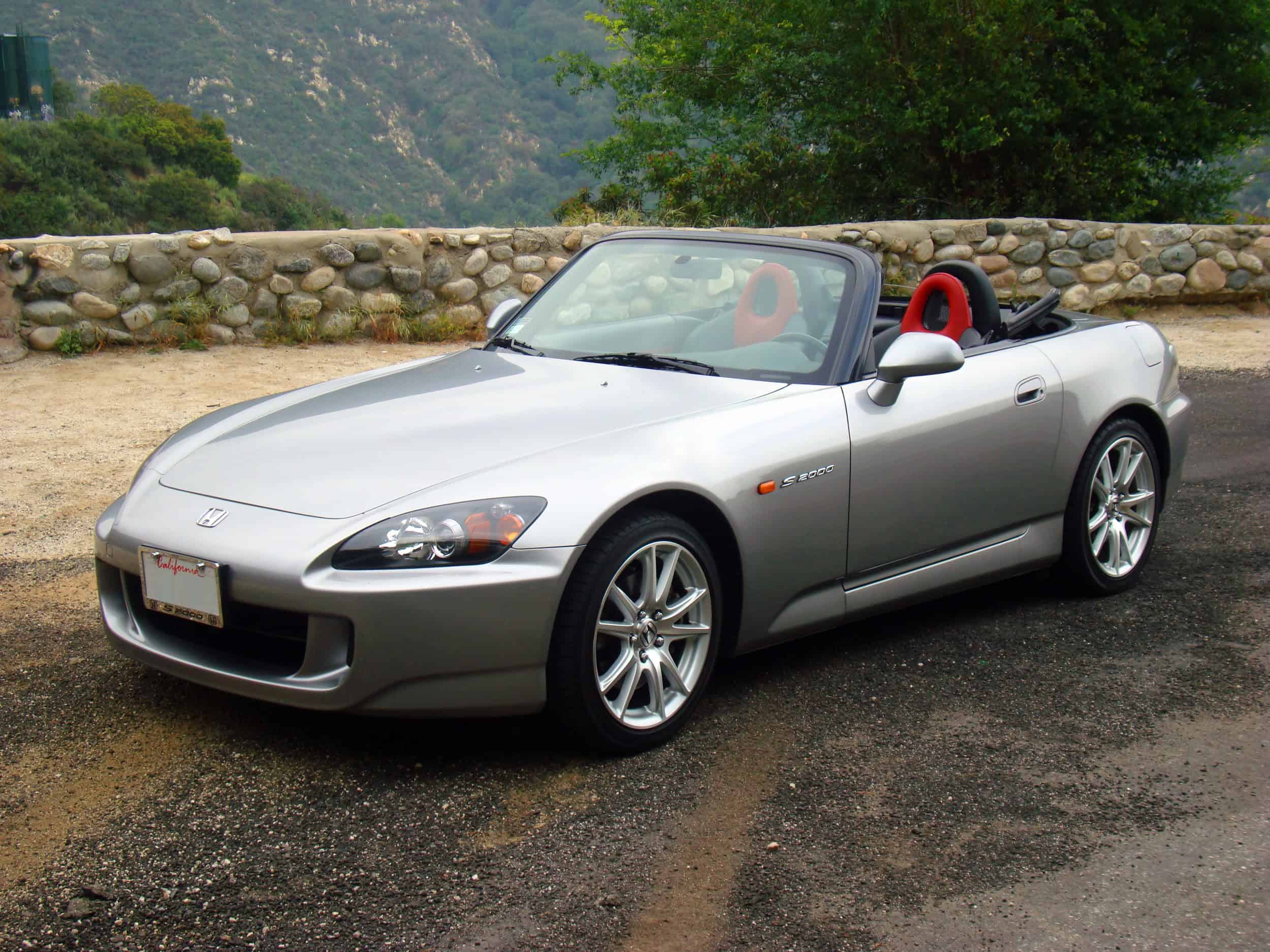 There really isn't much to say about Honda's S2000[21], it speaks for itself. It was launched in 1999 and carried on the historic moniker of the "S-line" of the Honda's of old. It ran for a decade virtually unchanged, because they didn't need to monkey with it.
It produced 241 horsepower for all 10 years of its life in the United States. There was a minor facelift and engine update in 2004; a shift the manufacturer denoted as AP1 to AP2. A shift so minor, we didn't really notice because it wasn't really advertised.
I don't know if that's because Honda felt some sort of shame for having to admit they didn't 100% stick the landing in 1999 or the fact the increased displacement, 2.0 liters to 2.2 liters, made zero difference for horsepower. It remained at a strong 237 it's entire tenure. Torque did increase to 162 up from 153.
The best thing about these topless sportscars is that they revved all the way up to 9,000 rpms. Damn near F1 car territory. To put it to perspective, a brand new Ferrari 488 GTB revs to 7,500[22] and there are 20 years between the two.
To nab a S2000 under $10K you'll have to be flexible. They will all have over 100,000 miles but when you hear that more scream you will want to put on 100,000 more. Grab this one here before I do, and before it appreciates beyond our TOP 10 CARS FOR 10K budget.
Volvo V70R (1997-2007)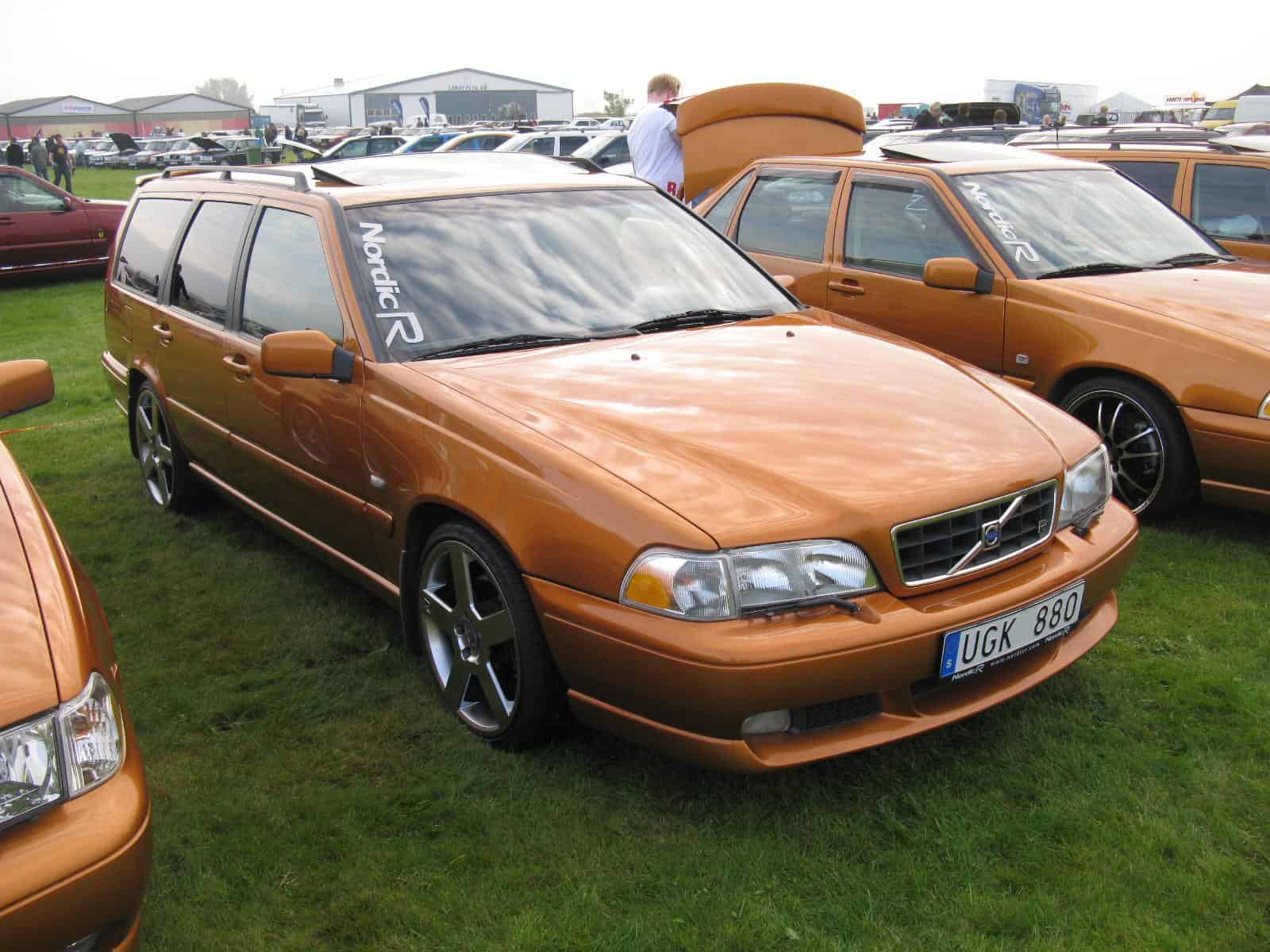 We had to have a sports wagon on this list. They are all too often the redheaded-stepchild to the average joe and need more praise. And if we are talking wagons; no one does it better than Volvo… I am pretty sure they invented them 😉
The V70[23] wagon was an estate car that was built to last long after your 2.4 kids have moved out of the house. But with the kids no longer being shuffled to soccer practice and piano lessons, there wasn't much need for this car was there? Not for the R-design.
This car was tuned to put 261 horsepower and 295 ft-lbs of torque from its turbocharged 2.4 liter straight-4 cylinder in 2000. That is just 21 less horsepower than James Bond's 7 Series above.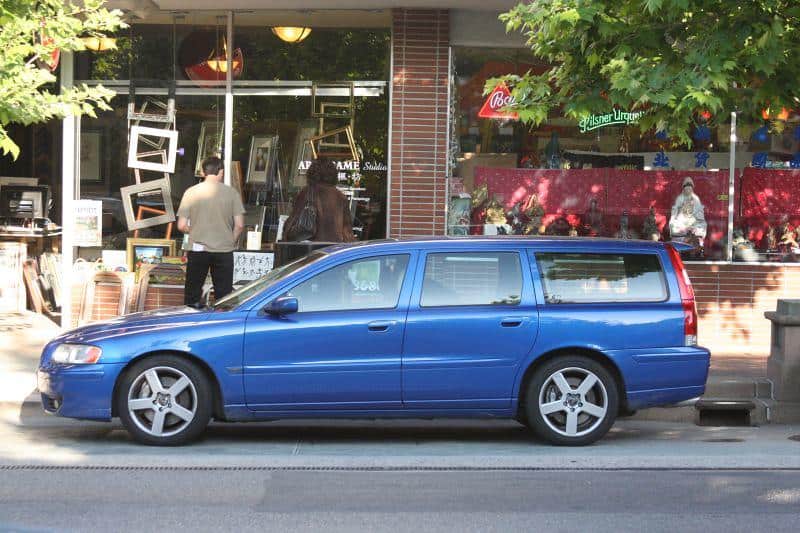 The second generation V70R[24] was released in 2003. It had a bigger bigger turbo mounted to a bigger 2.5 liter 4 cylinder. It produced 296 horsepower and 295 ft-lbs of torque and went from 0-60 in 5.9 seconds. It featured brembo brakes, with the later years having vented rotors. It sat on Öhlins[25] shocks and had 3 variable driver mode depending on how ridiculous you wanted to get.
This is one where I would recommend getting the older generation over the newer, like the JCW above. It's a bit more boxy, sporty design, and will likely become more sought after before the youngbloods that replaced it. But the second generation features so many upgrades it comes down to preference and desired performance.
You can't go wrong with this V70R for $3,000. Being a Volvo you wouldn't need much of repair fund but the leaves you plenty of money just in case; or better yet for some modifications. it makes us hopefully this car will be on our TOP 10 CARS FOR 10K list next year.
Toyota MR2 (1985-1989)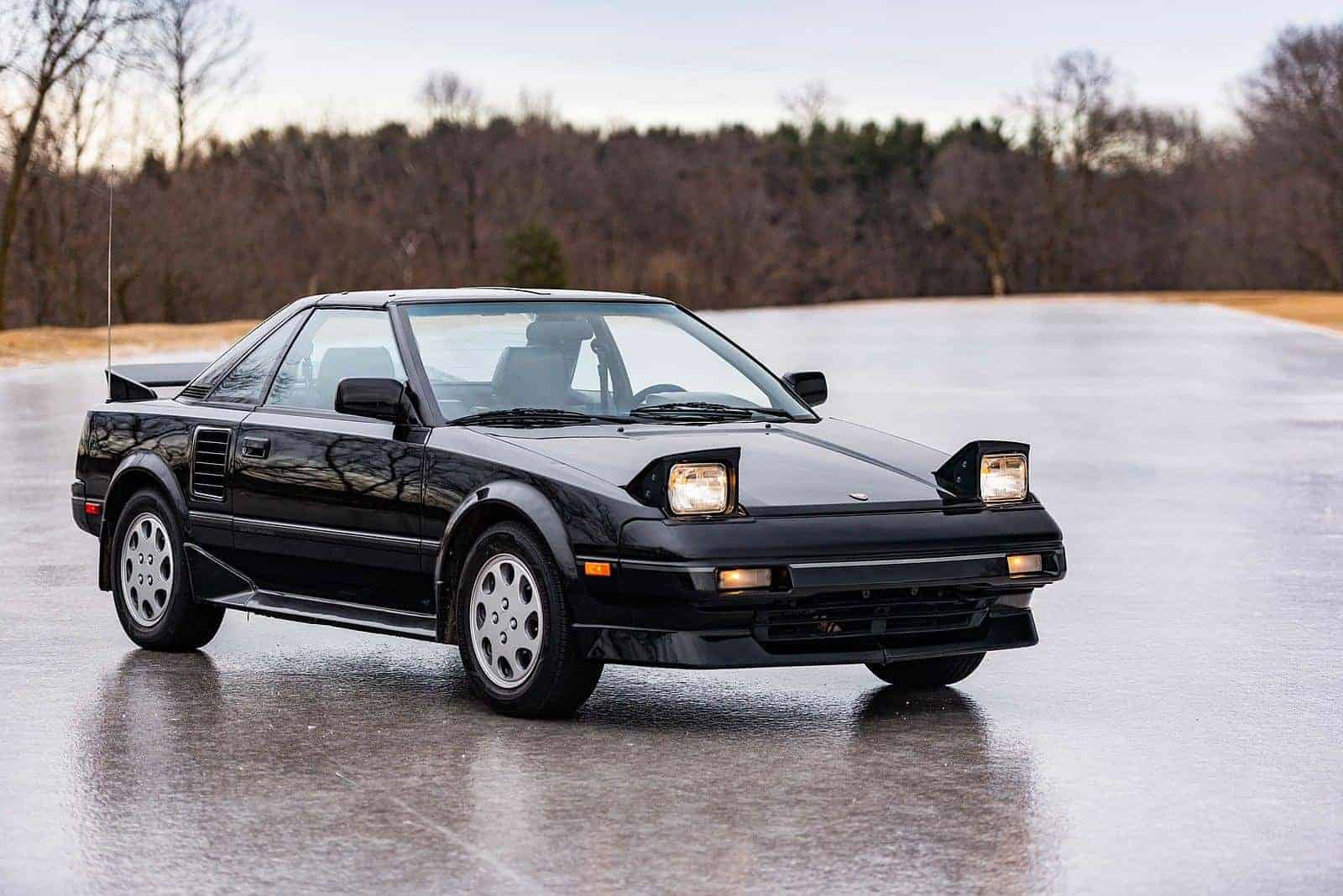 We love the MR2 here at Bespoke Car Broker. As we mentioned it on our annual TOP 10 BEST CARS TO BUY NOW list. It earned its spot on both these collections because of its feather-like curb weight, its driver-engagement, and affordability.
The W10 MR2 was introduced in 1985 and it had a 1.4 liter straight 4 and it produced 112 horsepower. This naturally aspirated motor sent you from a standstill to 60 mph in a solid 8.1 seconds. For 1985 that is more than enough for stop light races and getting around town.
But Toyota didn't stop there. A couple of years into the MR2's existence they beefed it up with a 1.6 liter straight 4 and supercharged[26] it. Performance stats went up 44%. It was good for 145 horsepower. If you opted for this engine you went from 0-60 in 6.5 seconds. That is a solid time for 2020.
There are two gorgeous generations of this targa… we will not talk about the 3rd generation just yet. But you'll be happily at home with either. The reason we are talking about only the W10, and not the W20 or W30, is because it has skyrocketed in price the last 2 years.
It has jumped up 42% according to hagerty and mostly by millennials. So expect these to be snapped up quick and it to be the last year it will be on our TOP 10 CARS FOR 10K list. We will all be kicking ourselves for not picking up every one we came across. Grab this one here
Jaguar XJR*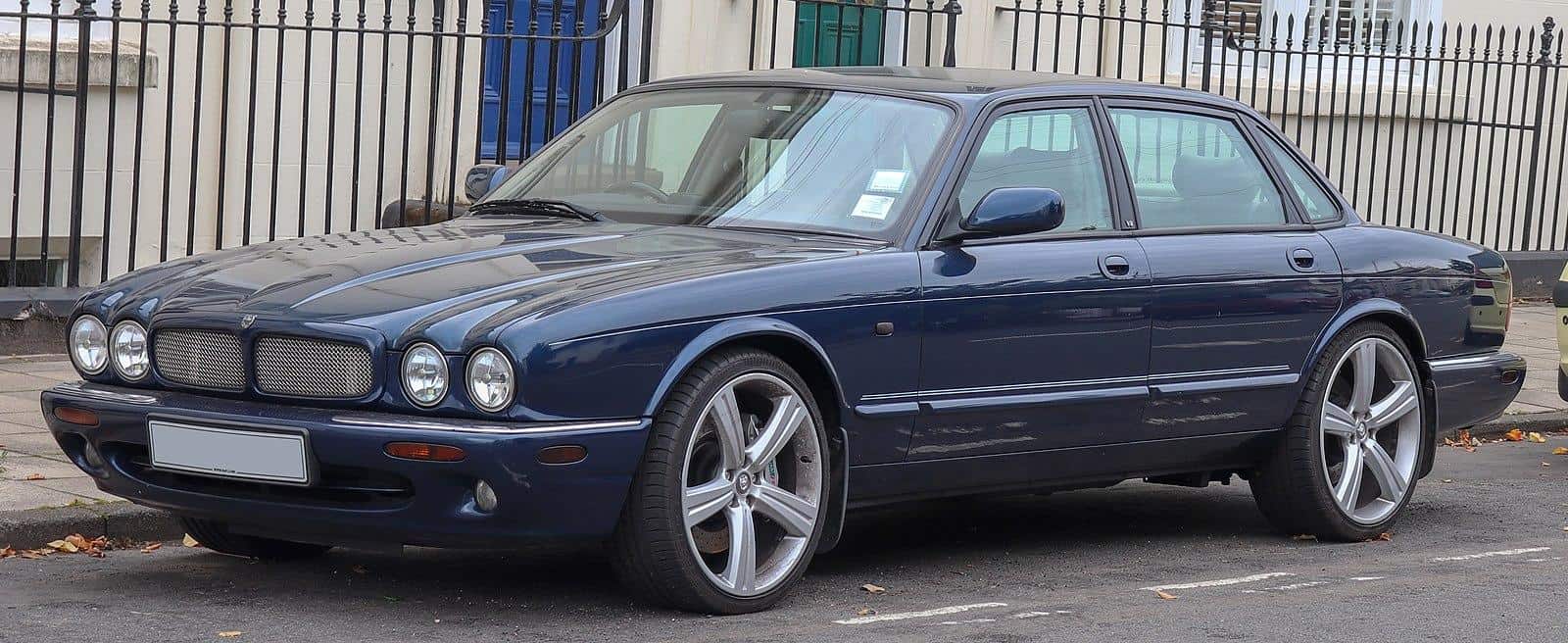 When people think of a Jaguar they may think E-type or XK120. However, I'd hazard a guess the subliminal flash that comes across their mind is of the XJ series. Namely, the XJR[27] from 1997 to 2003, called the X308 by the blokes at factory.
First launched in 1997, the Jaguar XJR was the flagship leaping cat. It was going toe-to-toe with the 7 Series we discussed above. While definitely appreciated in it's time, I think this overlooked today.
It either had a 3.2 liter straight 6 or a 4.0 liter in the XJR. It is a mighty fine motor, the 3.2, but in this insistence there is no need to concern yourself with that.
The 4.0 AJ-V8 found in the XJR was supercharged, and was good for 370 horsepower; another reason not to concern yourself with the 3.2 liter. It had a stiff sports suspension, much wider tires, cross-drilled Brembo brakes. It was good for a jaunt from 0-60 from either 5.1 seconds or 4.9 seconds[28] in later years. That makes the second fastest car on this list, next to the GTO… And it has twice as many doors.
My favorite feature this generation of XJR has is it's traction control system. It does not have a limited slip differential but instead a Computer-controlled suspension. Jaguar called it a "Computer Active Technology Suspension" or… C.A.T.S.

You will be hard pressed to find a low mileage example for under 10k but that is because people loved to drive them. This cat will scratch you every now and again for repair but it will be purring more often than not.
These used to be a couple of grand and now it took some hunting to find to find a good reasonable example. I get the feeling this cat will not be on our TOP 10 CARS FOR 10K list for long Pick up this British Racing Green XJR for 3 grand here. 
Honorable Mentions:
Below are some incredible cars that we know and love but didn't get a full exposé. They are no less important than the others. We just couldn't discuss all 30+ vehicles we found within the guidelines. Thanks to Garrison Goodland for helping refine our list! Check out his channel here! These will all likely be on our next TOP 10 CARS FOR 10K
Subaru Impreza WRX STI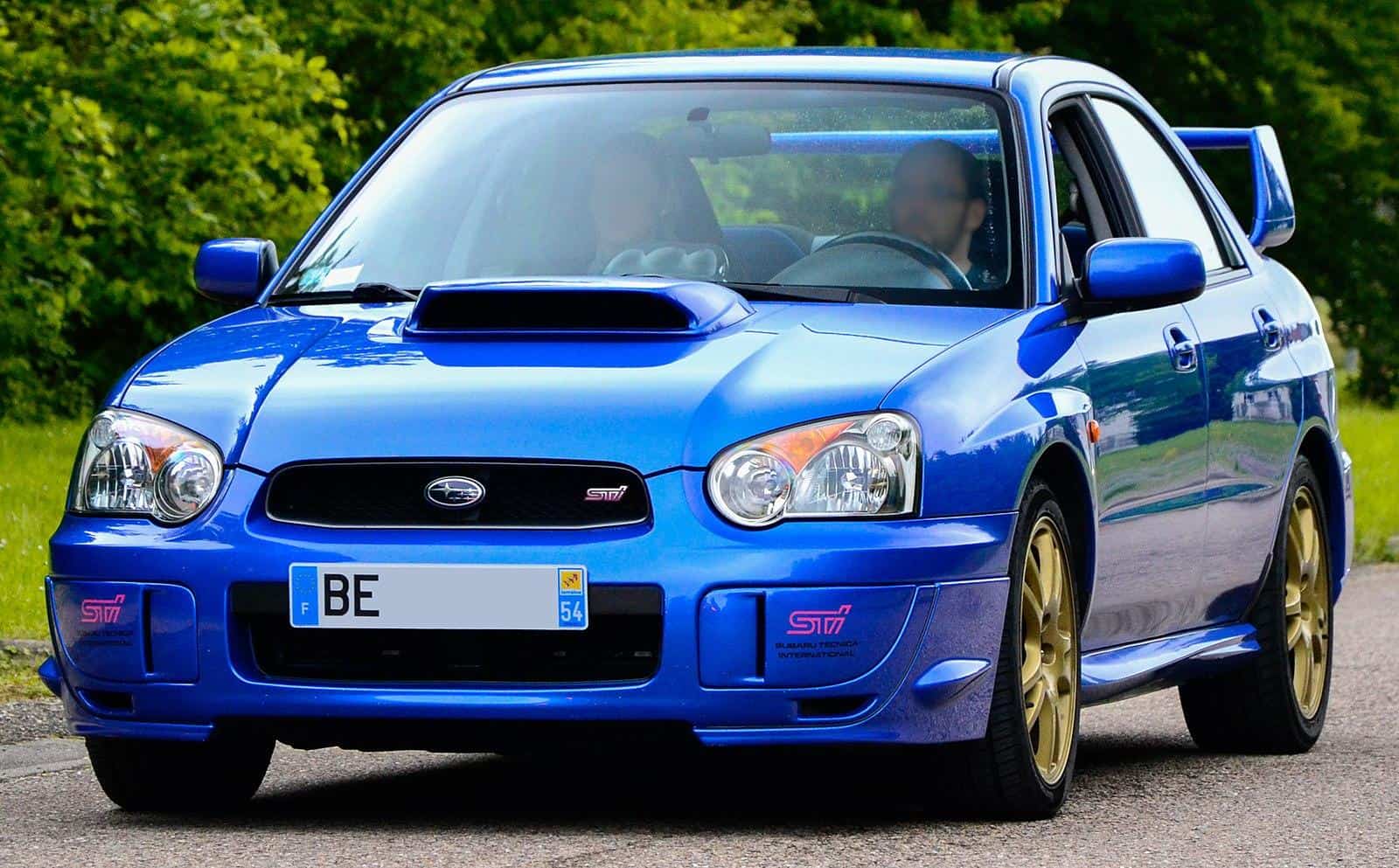 Mercedes Benz CL55 AMG
Volkswagen Corrado VR6*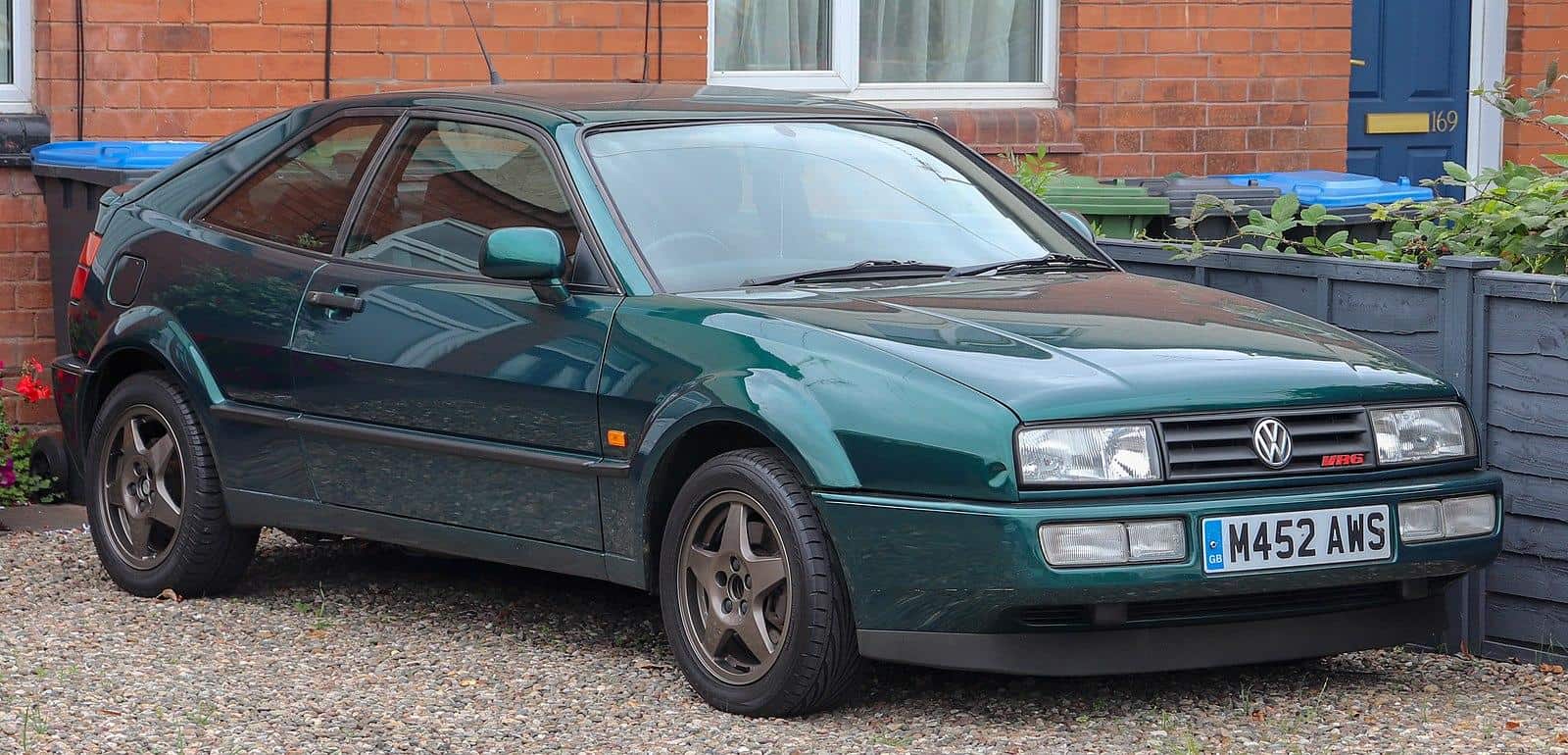 Mazda MazdaSpeed6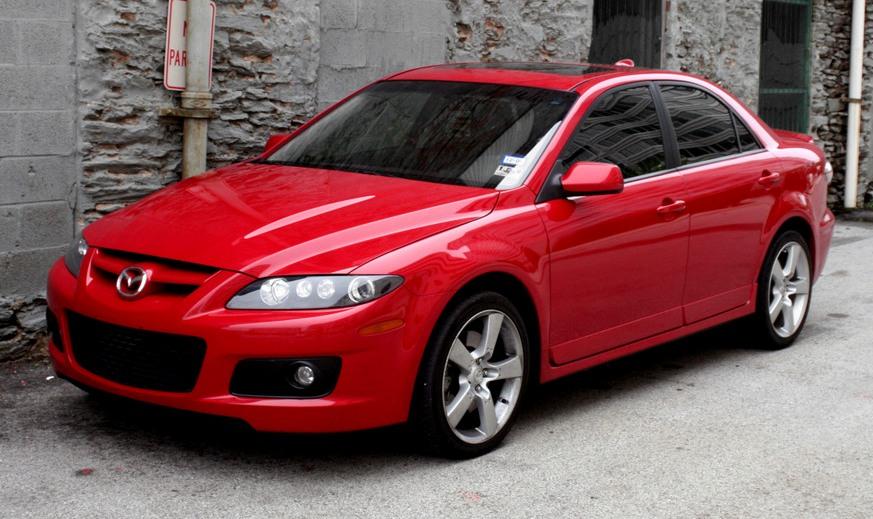 Fiat 500 Abarth